| | |
| --- | --- |
| ID | #1543744652 |
| Added | Sun, 02/12/2018 |
| Author | July N. |
| Sources | |
| Phenomena | |
| Status | |
Initial data
Initial information from sources or from an eyewitness
In our time, pictures of aliens, the Network has accumulated so much that no longer know which ones are genuine and which of the number of fakes, but occasionally about myself say people ready all by hook or by crook to convince the world that they really had a chance to find the footage of someone from another planet. Another such case occurred a few days ago, when the American, whose name in the media is not called, showed the people the photo, which depicted the alleged representative of a different civilization.
At the moment the published on a variety of sites, is rapidly gaining popularity and is haunted terribly greedy for such news to Internet users, again divided into skeptics and those who believe in aliens, and staged the world wide web is a real "war" in the name of truth.
However, it is the truth, most likely, will never be known, although some assumptions in this regard has been provided by the staff of UFO organizations. Is the photo real "green man"? Now this question torments many, and the researchers involved in these mysteries for a long time, going to deal with it as soon as possible.
According to American journalists, presented the was created in 1982 as a resident of Idaho. According to some, in a day when unprecedented scenes the man was returning from work in the evening hours and drove to his house on the truck.
At some point the man noticed near the home high creature with pale skin, thin limbs, disproportionately large head that had no hair, big eyes and black. Despite the shock, the hero of the situation was able to find a bit of energy to get to the glove box of the car and take a camera there.
Then witness the incredible event brought the lens to a humanoid, and he, in turn, made the jump and was near his car, and then with great curiosity looked in her salon. This moment was in the picture.
Not quite, however, clear who had shown a striking photo. Most likely, of course, witness a mysterious accident made it his own, though evidence of this view and no. This is a hypothesis, according to which a resident of Idaho did not survive that meeting with the alien creature, and a remarkable material soon was in the hands of the American secret services, which showed the content.
Translated by «Yandex.Translator»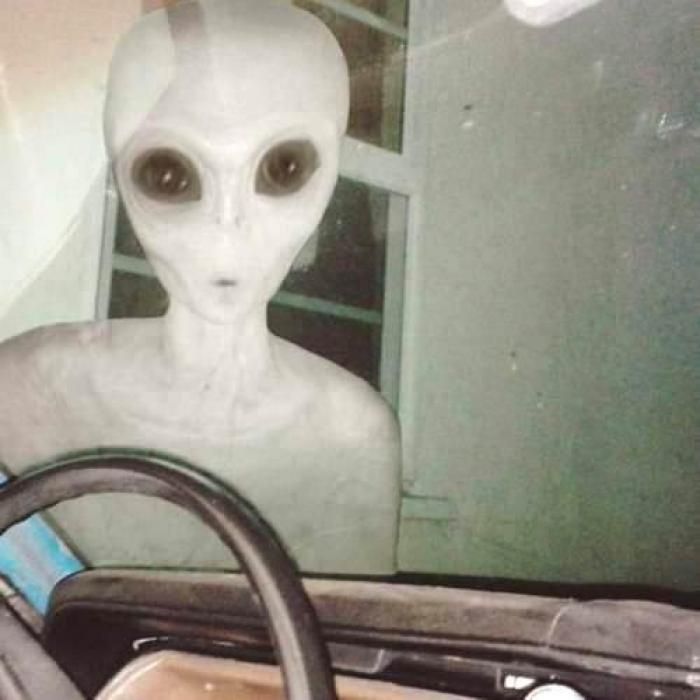 Hypotheses
List of versions containing features matching the eyewitness descriptions or material evidence
Investigation
Versions testing, their confirmation or refutation. Additional information, notes during the study of materials
Not enough information
Resume
The most likely explanation. The version, confirmed by the investigation
Not enough information
---
Log in
or
register
to post comments