| | |
| --- | --- |
| ID | #1548925211 |
| Added | Thu, 31/01/2019 |
| Author | July N. |
| Sources | |
| Phenomena | |
| Status | |
Initial data
Initial information from sources or from an eyewitness
Incident date:
18.08.2012
Mythical Bigfoot seems to have been photographed in North America. The resulting image is quite amazing, despite their poor quality.
These photos were taken in the Rocky mountains, surrounded by forest, 18 August 2012. Both seem thick, dark fur, probably black or brown. Second snow man sits or squats, which are largely hidden by the bushes. The first is that allows you to see and assess growth.
Translated by «Yandex.Translator»
Original news

Une nouvelle fois, le mystérieux mais néanmoins mythique Bigfoot, semble avoir été photographié en Amérique du Nord. Les images obtenues sont assez surprenantes malgré leurs faibles qualités.

Ces clichés ont été pris, comme souvent, dans les Montagnes Rocheuses, en pleine forêt, le 18 août 2012. Fait rarissime, il semble y avoir deux de ces créatures ! L'une d'entre elle se tient debout. On remarque, de ce fait, sa taille imposante. Les deux semblent posséder une épaisse fourrure sombre, probablement noire ou marron. Le second bigfoot est assis ou accroupis, mais il est en grande partie caché par des arbustes.

Le problème c'est que les deux créatures sont trop loin pour juger de la crédibilité des images. On pourrait penser aisément à un énième canular (déguisement ?), ou à une illusion d'optique provoquée par la position insolite de quelques arbres … . Toutefois notons que les Rocheuses sont un lieu où ces énigmatiques créatures sont très couramment filmées !

Ce qui distingue le bigfoot des autres animaux, c'est son attitude clairement humanoïde. En effet sa démarche singulière paraît très proche de la nôtre. On pourrait donc dire que le sasquatch se situe entre le gorille et l'homme …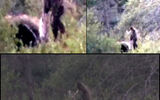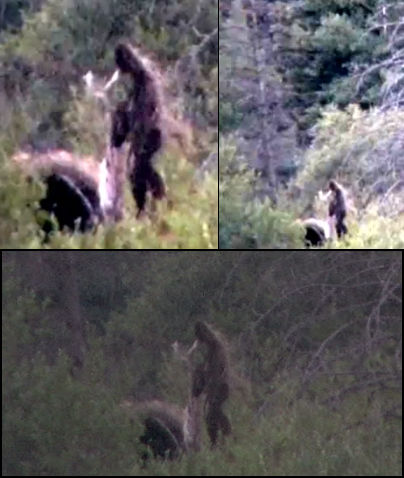 Source:
activite-paranormale.net
Source:
youtube.com
Hypotheses
List of versions containing features matching the eyewitness descriptions or material evidence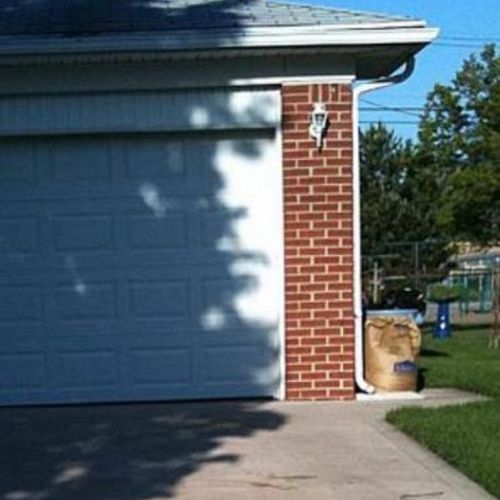 A variety of visual illusions (the so-called "sensory illusions additions"); is the formation of illusory images, as a basis which are the details of the real object. Thus, the vague and obscure the visual image is perceived as something distinct and defined — for example, figures of people and animals in the clouds, the image of a man on the moon, "a hidden message", audible when you reverse the audio recordings, the shadows formed by leaves or complexes of objects in certain lighting (sometimes at a certain angle).
Translated by «Yandex.Translator»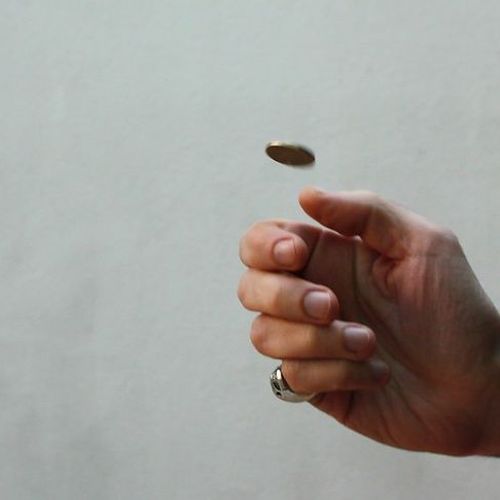 This version includes any falsifications that imitate unexplained phenomena both from the outside: practical jokes, flash mobs, fake news, witness fraud, staging, etc.
There are many ways to make something similar to a ghost or a flying saucer from improvised materials, without using video and photomontage.
Many homemade things made for the sake of a joke, a practical joke or a direct imitation of a mystical being or event can be taken as unexplained not only in photos and videos, but also in reality.
Investigation
Versions testing, their confirmation or refutation. Additional information, notes during the study of materials
We can assume that it is overgrown with moss stumps that from a certain angle resemble a hairy humanoid creature. An example of the long moss, whose color can vary from shades of green to dark brown or brown-grey:
Translated by «Yandex.Translator»
Resume
The most likely explanation. The version, confirmed by the investigation
Not enough information
---
Log in
or
register
to post comments