ID
#1635691039
Added
Sun, 31/10/2021
Author
July N.
Sources

urbibl.ru

Антонина ЗАЙЦЕВА «Уральский следопыт» №8-9, 1996 г.

Phenomena
Status
Initial data
Initial information from sources or from an eyewitness
Incident date:
17.08.1841
On August 17, 1841, people who worked on a tobacco plantation in the Tennessee (USA), were surprised to hear the sound of large drops on the leaves. They fell from a red cloud and resembled blood. When they found the owner of the plantation and returned back, the whole field was covered with some nasty-smelling substance.
Two months later, a scientific journal explained the story by saying that it was allegedly a joke of Negroes working in the field who scattered pieces of a decomposed pig.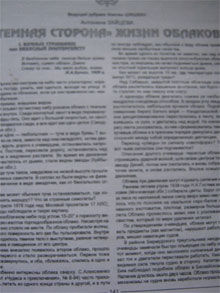 Type:
Scanned fragment of a newspaper or magazine
Source:
urbibl.ru
Hypotheses
List of versions containing features matching the eyewitness descriptions or material evidence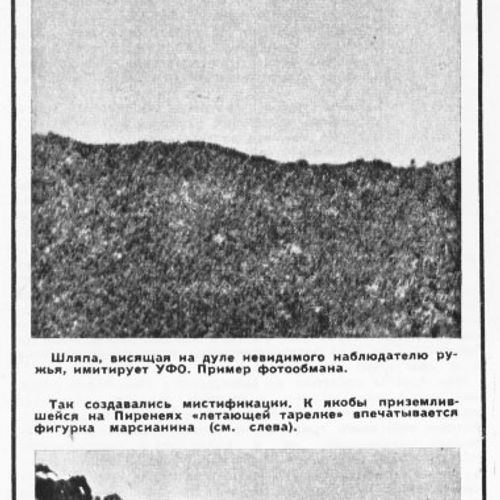 This version includes any of falsifying, imitating unexplained phenomena as of: pranks, flash mobs, fake news, spoof of the witnesses, staging, etc.
There are many ways of scrap materials to make something like a Ghost or a flying saucer without using video and photo montage.
A handmade object, made for joke, prank or direct imitation of mystical creatures or events can be mistaken for unexplained not only pictures and videos but in reality.
Also in this section include various pranks and flash mobs, aimed at the simulation of NOF.
Investigation
Versions testing, their confirmation or refutation. Additional information, notes during the study of materials
Not enough information
Resume
The most likely explanation. The version, confirmed by the investigation
Not enough information
---
Log in
or
register
to post comments