| | |
| --- | --- |
| ID | #1660383896 |
| Added | Sat, 13/08/2022 |
| Author | July N. |
| Sources | |
| Phenomena | |
| Status | |
Initial data
Initial information from sources or from an eyewitness
Incident date:
13.08.2022 00:55
A resident of Dronten (Flevoland) witnessed an unusual phenomenon:
Me and my boyfriend were watching the incessant rain on the ditch pier in Dronten West.

At about 00:55, my friend saw a glowing ball rising from behind the treetops above the road to our right.

I saw it too after he knocked on me.

Then he ran in that direction and got there pretty quickly, but then the object disappeared.

It lasted for 2 minutes.


The photos show a streak of light because the shutter speed was set to 30 seconds. I turned the camera to the ball and just pressed the photo button instead of taking pictures.

So, what you're seeing is a slightly blurry photo a few seconds long.

Thus, in the photo, the sphere is visible as a line.


The message from Hengelo is very similar to what we also saw.
Original news

Lichtbol

DRONTEN, FL — Ik en mijn vriend zaten naar de perseiden regen te kijken op de stijger van de sloot in dronten west.
Omstreeks 00:55 zag mijn vriend boven het spoor rechts van ons een lichtbol achter de boomtoppen omhoog komen.
Ik zag het ook nadat hij me aantikte.
Vervolgens rende hij die richting op en hij was daar redelijk snel maar toen was het object verdwenen.
Dit is binnen 2 minuten gebeurt.

De foto's laten een lichtstreep zien, dat komt omdat de sluitertijd op 30 seconden stond voor de meteoren. Ik had mijn camera richting de lichtbol gedraaid en had gewoon op fotoknop gedrukt ipv filmen.
Wat je dus ziet is een licht bewogen foto van meerdere seconden lang.
De lichtbol is dus zichtbaar als een streepje op de foto.

Het bericht uit Hengelo komt sterk overeen met wat wij ook zagen.
Hypotheses
List of versions containing features matching the eyewitness descriptions or material evidence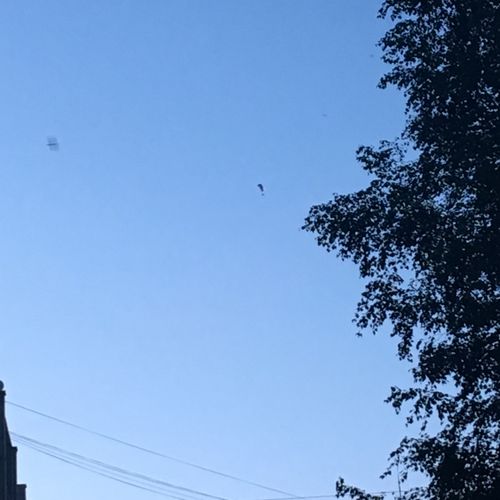 Most often this artifact is called skayfish if the lens gets a passing bird or insect. It is based on the discrepancy between the speed of the video and the frequency of the flapping of insect wings. Essentially, each video drops a few strokes of the wings of an insect, which when viewed looks like "arrow", provided with long protuberances. The motion of the insect by its translucent body seems to "boom" and vibration of the wings give the appearance of bumps.
Investigation
Versions testing, their confirmation or refutation. Additional information, notes during the study of materials
Not enough information
Resume
The most likely explanation. The version, confirmed by the investigation
Not enough information
---
Log in
or
register
to post comments