| | |
| --- | --- |
| ID | #1669329972 |
| Added | Fri, 25/11/2022 |
| Author | July N. |
| Sources | |
| Phenomena | |
| Status | |
Initial data
Initial information from sources or from an eyewitness
Incident date:
24.11.2022 17:41
A rather large red ball was spotted over the city of Hilversum (North Holland).
An eyewitness writes:
It was a relatively large (compared to the aircraft lights) bright red light source. Nothing but light was visible, it was already dark. Therefore, the distance was difficult to estimate, but because of its size, it did not seem very large. 

Surprisingly, there was no sound. So I thought for a moment about a flash, but the light was moving at a constant speed in a straight horizontal line. There was also practically no wind at that time, which could explain the noiselessness of the movement. 

I managed to make a short video until the object disappeared behind the roofs, but the naked eye could still see some kind of diffused light over the edge of the roof, which continued to move at the same speed.
Original news

Behoorlijk grote rode lichtbol

HILVERSUM, NH — Het was een relatief grote (in vergelijking tot vliegtuiglichten) felrode lichtbron. Iets anders dan licht was niet te zien, het was al donker. De afstand was dan ook moeilijk in te schatten maar door het formaat leek het niet heel ver weg te kunnen zijn. Gek genoeg was er geen geluid te horen. Ik dacht daarom even aan een flare maar het licht bewoog op constante snelheid op een rechte horizontale lijn. Er stond op het moment ook nagenoeg geen wind wat de geluidloze voortstuwing had kunnen verklaren. Ik heb een korte opname kunnen maken tot het object achter de daken verdween, maar met het blote oog was er nog een soort strooilicht waar te nemen over de rand van het dak wat zich met dezelfde snelheid bleef bewegen.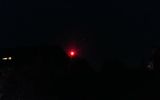 UFO Hilversum, Noord-Holland • 24 november 2022
Author: UFO Meldpunt Nederland
Hypotheses
List of versions containing features matching the eyewitness descriptions or material evidence
Investigation
Versions testing, their confirmation or refutation. Additional information, notes during the study of materials
Not enough information
Resume
The most likely explanation. The version, confirmed by the investigation
Not enough information
---
Log in
or
register
to post comments