| | |
| --- | --- |
| ID | #1675354880 |
| Added | Thu, 02/02/2023 |
| Author | July N. |
| Sources | |
| Phenomena | |
| Status | |
Initial data
Initial information from sources or from an eyewitness
Incident date:
01.02.2023 18:30
Location:
Тер Апельканал
Netherlands
Many objects of light in a row were seen over Ter Apelkanal (Groningen).
The eyewitness accompanies the photo with the following comment:
There were hundreds of them. We didn't hear a sound. We've never seen this
Original news

Heel veel " lichtjes" achter elkaar aan

 

Bekijk het vliegverkeer op moment van waarneming.

TER APELKANAAL, GR — Er waren honderden die achter elkaar door gingen. We hoorden geen geluid. Dit hebben we nog nooit gezien
Hypotheses
List of versions containing features matching the eyewitness descriptions or material evidence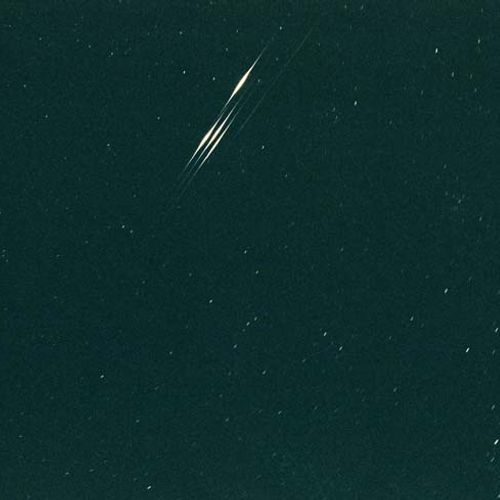 Ordinary satellites, which often look like single not very bright luminous dots moving smoothly in the night sky, are quite often mistaken for UFOs. After the Starlink satellites were launched (a system of near-Earth satellites developed by SpaceX, in order to create a cheap and high-performance satellite Internet communication channel and technical transmitters for receiving and transmitting signals from Earth and orbit), it became possible to observe groups of satellites (up to 60 pieces) flying one after another.
Investigation
Versions testing, their confirmation or refutation. Additional information, notes during the study of materials
Not enough information
Resume
The most likely explanation. The version, confirmed by the investigation
Not enough information
---
Log in
or
register
to post comments