| | |
| --- | --- |
| ID | #1679860545 |
| Added | Sun, 26/03/2023 |
| Author | July N. |
| Sources | |
| Phenomena | |
| Status | |
Initial data
Initial information from sources or from an eyewitness
Incident date:
25.03.2023 19:45
UFO in Kelowna, British Columbia, filmed on March 25. 
1st video at 19:45, 2nd and 3rd at 20:15. 
A bright red ball that, when he turned off the light, could be seen to be black. Then it turned red, translucent, like a drop, and went behind the mountain. When he came down, he turned black again.
Original news

Posted byu/th3bigh00k

UFO Kelowna British Columbia. March 25th. 1st video is at 7:45pm and 2nd and 3rd are from 8:15. Bright red orb that when it turned the light off you could see it's black. It then went red translucent like a blob and went behind a mountain. As it came down it went back to black. Thoughts?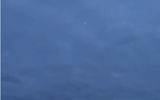 Hypotheses
List of versions containing features matching the eyewitness descriptions or material evidence
Investigation
Versions testing, their confirmation or refutation. Additional information, notes during the study of materials
Not enough information
Resume
The most likely explanation. The version, confirmed by the investigation
Not enough information
---
Log in
or
register
to post comments