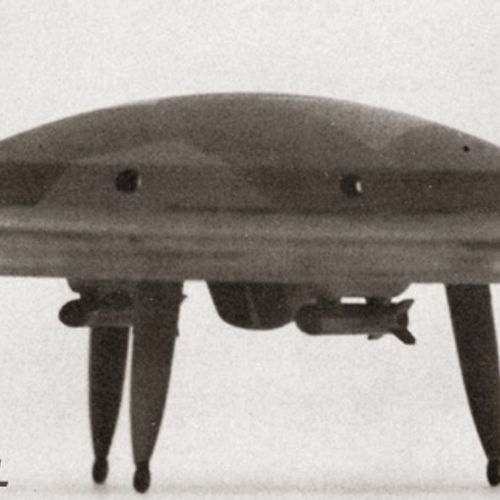 | | |
| --- | --- |
| Added | Thu, 02/09/2021 |
| Источники | |
| Феномены | |
| Версии | |
A certain "Schildkröte"is mentioned in US government documents. Obviously, this is some kind of German project of an unusual-shaped jet aircraft. This name is often associated with certain photos that look very similar to UFOs.
In the gallery, we will present excerpts from the report with references to the project.
According to the information from the website discaircraft.greyfalcon.us these conclusions turn out to be false:
The conclusions from the time this was written are false

German RLM numbers (German Ministry of Aviation) for each project:

8-103-Fi-103 or V-1 flying bomb

8-117 is an Hs-117 Schmetterling (Butterfly) rocket.

8-152 is the number assigned to the mysterious Schildkröte, suspected of being a jet fighter; but in fact it is only an Fw Ta 152. However, the Fw Ta 152 was operated underground in the Espenlaub Miese I complex. For carrying out repair work.

8-162 is a He-162 Volksjäger ... or Salamander (mentioned in the document)

8-246 at the bottom of the document refers to the Bv-246 Hagelkorn rocket.

Anyone who knows anything about RLM numbers will notice an incorrect identification regardless of whether the report is authentic or not. At the end of the war, the Allied Tech Intel teams, as well as the US Army and USAAF Intel, thus confused and spoiled many German programs.

Rob Arndt
And the photos associated with this project turn out to be a hoax. The source of the hoax is indicated by issue No. 9 of Luftfahrt International Publishing house: Publizistisches Archiv Karl R. Pavlas
Information about photos taken from the IFOs library (Identified Flying Objects or Identified Flying Objects) of the site laesieworks.com confirms this information.
It also says that the photos are not a real disk-shaped UFO, but a model created for entertainment. 
The author indicates:
You will find them everywhere on the internet, but they are NOT real alien ships!
As a source of information, the author also indicates:
Issue # 9 "Luftfahrt international"

Publisher: Publizistisches Archiv Karl R. Pavlas

Nuremberg (Nuremberg), without a year (mid-1970s?) The ISBN number is unknown.
Despite the fact that these photos are obviously a joke, they are often given on the web as authentic, and concepts based on them even get on the covers of thematic books. 
Это интересно
Despite the fact that the photos of "Schildkröte" are obviously a hoax, they are often presented online as authentic, and concepts based on them even get on the covers of thematic books on ufology.
---
Log in
or
register
to post comments