| | |
| --- | --- |
| ID | #1648645265 |
| Added | Wed, 30/03/2022 |
| Author | July N. |
| Sources | |
| Phenomena | |
| Status | |
Initial data
Initial information from sources or from an eyewitness
In the early 1900s, a man known as Bela Kiss was for most people just a successful owner of a tin workshop in the Hungarian village of Chinkota, but no one knew anything special about him, except that he had a reputation as a restless ladies' man and liked to throw parties.
His past before moving to the city in 1900 was hazy, he had no family, no real friends that anyone knew about. However, he was rich, handsome, and few people guessed about his secret life and the darkness hiding under his secular shell.
So began an almost legendary story about the occult, vampire murders and a killer on the run, who became almost like a phantom. Things started to get even more sinister after Bela Kiss married a woman 15 years younger than him in 1912. The new wife, Marie, soon after began a whirlwind romance with a local artist named Paul Bicari, after which people simply stopped seeing her or her lover in the city.
It was strange because she was such a social butterfly, but when asked about it, Bela just shrugged and said that she and Bikari ran away to live together in America. Then he returned to entertaining ladies and extorting money from widows. All this was witnessed by Bela's housekeeper, who later said that he often brought these women home.
Although he said that his wife had run away, there were those in the neighborhood who were not sure. In the years since Marie's disappearance, several things were known about Bel that his housekeeper, the owner of the cottage he rented, and many neighbors did not quite like.
For example, he seems to have been deeply immersed in the occult and often claimed to conduct magical rituals in his house. It was creepy, but even more creepy was that the housekeeper noticed that sometimes she saw women come to him, but never saw them leave. He was also seen storing large metal barrels in which, according to him, gasoline was stored to prepare for the impending World War I, but no one could understand why he had so many of them.
At that time, there were also several missing people in neighboring Budapest who were unsuccessfully searched by the police, but at that time it was not related to Bela Kiss. Although any of these things could have gone unnoticed by themselves, some people put two and two together and came to alarm signals.
However, no one could do anything, because Bela had not done anything frankly wrong, and he was still loved. It was only when the First World War broke out in 1914, and Bela Kiss was sent to war, that the situation took a gloomy turn. When, two years later, Bela was rumored to have died in battle, the owner of the house, who was very suspicious of his tenant, decided to go into the house and look around, and also put it in order for the next tenant.
A search of the house found boxes full of letters from single women he had robbed, but nothing else suspicious turned up until he started moving some barrels of gasoline, thinking to donate them to the military.
However, they turned out to be not gasoline, but something from a nightmare, as soon as the first barrel was opened, it became clear that something was wrong. The barrel was spewing a disgusting stench, and it soon became clear why: it contained the corpse of a strangled woman, who seemed to have been pickled and suspended in a barrel in some kind of putrid wood-alcohol solution. The authorities were immediately notified, after which 24 corpses were found in the house in the same drums and buried on the territory of the house and in the nearby forest.
Two of them belonged to Bela's wife, Marie, as well as her lover Bikari, both were strangled to death, the other corpses belonged to the missing women from Budapest, and the rest could not be identified.
All the victims were naked, the cause of death was strangulation, most of them had puncture marks on their necks and blood was almost completely sucked out, which indicates that Bela was engaged in vampirism, and then these bodies were stuffed into barrels for pickling.
The surreal horror of all this was added by a secret room that was locked and in which there were bookcases overflowing with texts about the occult, vampires, poisons, strangulation and letters from women.
Many of these letters were from missing, murdered women, and after reviewing them, it turned out that in 1903 he began robbing lonely middle-aged widows by placing ads in newspapers, posing as a man looking for marriage, then a marriage agent, then a fortune teller, calling himself the pseudonym Hoffman, after which he persuaded them to give he needed money, and then, as it seemed to him, he left for the next woman.
It was also established that two of the disappeared women were victims of his scam and threatened legal action against him for having deceived them. Given all this, the police immediately began to find out whether Bela Kiss really died in military service. They found out that he was not killed, but was wounded and was being treated in a hospital in Serbia at the time.
The authorities, thinking they had found their man, arrived at the hospital and found that Bela had escaped, leaving the dead body of another soldier in his bed as bait. After that, the trail disappeared, but the strange and gloomy story of Bela Kiss, of course, did not end there.
While the authorities were desperately searching for the man who became known as the "Hungarian Vampire" and the "Monster from Chinkot", the legend about him only grew, as meetings with the elusive killer began to appear everywhere.
For many years, it has been claimed that he assumed the identity of a dead soldier and lives in Budapest, that he was a member of the French Foreign Legion and then went on the run again, that he was imprisoned for burglary in Romania, but he escaped, and even that he died of yellow fever, but he was continued to see in different countries around the world, always melting like a ghost.
Back in 1932, Bela Kiss was allegedly spotted in Times Square in New York by the murderous detective Henry Oswald, but he managed to lose his pursuer in the crowd. A few years later, in 1936, a rumor spread that the now elderly Kiss was working as a janitor in an apartment complex on 6th Avenue, but he disappeared again before he could be apprehended.
As a result, Bela Kiss was never caught, and the true number of his victims, whom he most likely recruited over the years of flight, is unknown. His story has become a legend, so much so that he looks more like a kind of boogeyman than a real person, but he really existed and was a real monster.
Why did he do what he did, and what really happened to him? We'll probably never know, and his story remains one of the greatest unsolved serial killer mysteries.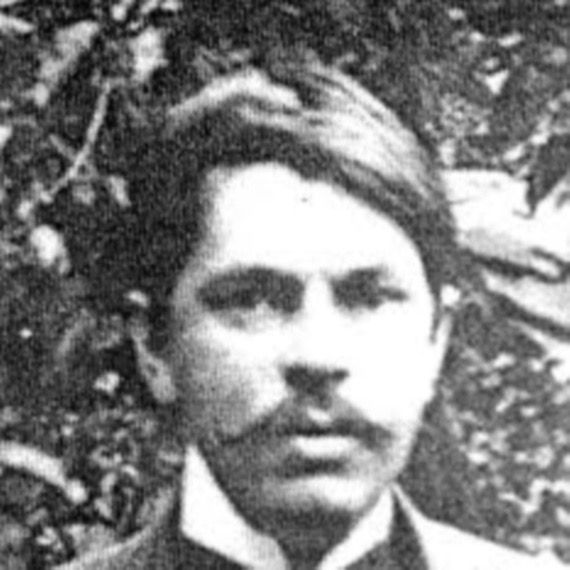 Photo of the alleged vampire (maniac)
Hypotheses
List of versions containing features matching the eyewitness descriptions or material evidence
Not enough information
Investigation
Versions testing, their confirmation or refutation. Additional information, notes during the study of materials
Not enough information
Resume
The most likely explanation. The version, confirmed by the investigation
Not enough information
---
Log in
or
register
to post comments