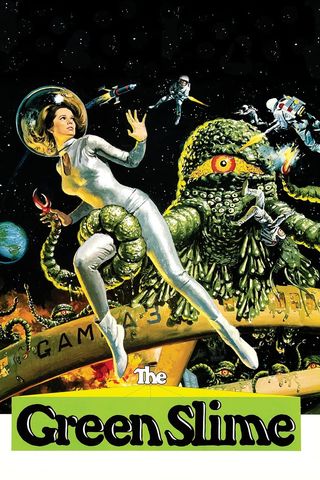 | | |
| --- | --- |
| Added | Wed, 02/11/2022 |
| Release date | |
| Original title | |
| Феномены | |
| References | |
The green slime (jap. ガンマー第3号 宇宙大作戦, Hepburn: Ganmā Daisan Gō: Uchū Daisakusen, the literal translation is "Gamma 3: the Great space war") is a science fiction film of 1968, filmed on the eponymous story by Ivan Reiner.
Despite the fact that the film is played almost exclusively by Western actors, it was shot in Japan mainly by an Asian film crew.
Green slime was used in the pilot episode of the 1988 parody television series Mystery Science Theater 3000. The film also became the main source of inspiration for the 1979 board game "Terrible Green Things from Outer Space".
After destroying a huge asteroid that was rapidly approaching the Earth, a group of astronauts discovers that they accidentally brought an alien slime to the space station. Soon, a hideous-looking alien creature develops from the substance, which feeds on electrical energy and can multiply rapidly at the expense of its own blood.
Phenomena in artwork: The Alien
An alien from outer space is first a living green slime that people discover on an asteroid flying alone in space. Once on the Earthlings' space station in the costume of one of the astronauts (and successfully survived several disinfection procedures), the creature disables some of its electrical mechanisms. Under the influence of electricity, the slime quickly evolves, acquiring the appearance of a creepy green multi-eyed monster with tentacles.
The creature attacks people, striking them with electrical discharges. When people try to kill him with laser weapons, they discover that new aliens are born from the green blood of an alien under the influence of an electric current. Soon they become a significant threat to people, which can only be eliminated by blowing up the space station.
Aliens do not have developed intelligence and attack people instinctively, trying to protect themselves. At the same time, they turn out to be extremely hardy and survive even in outer space (both in the form of green slime and in the form of a full-fledged creature).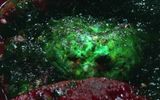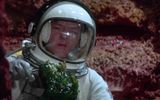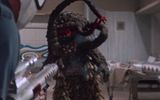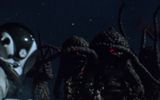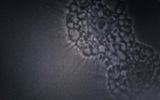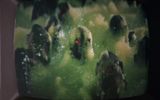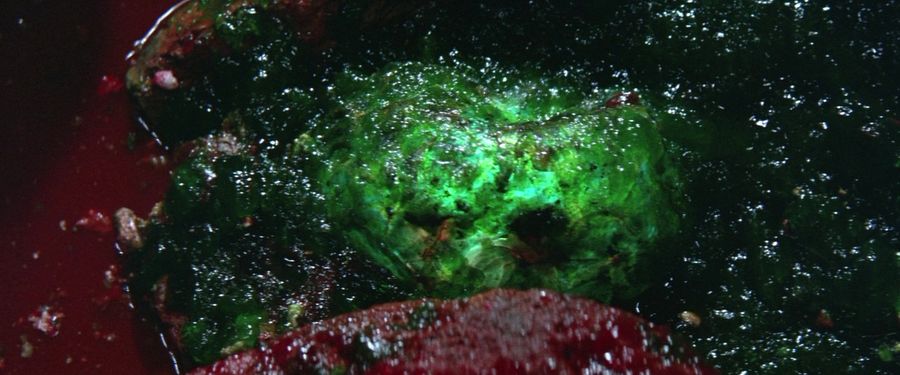 Green slime found on an asteroid
Source:
Кадр из фильма "The Green Slime" (1968)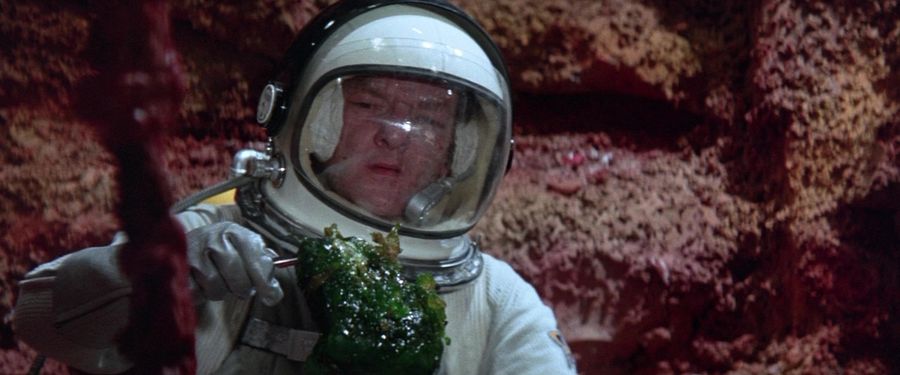 Astronaut holds green slime
Source:
Кадр из фильма "The Green Slime" (1968)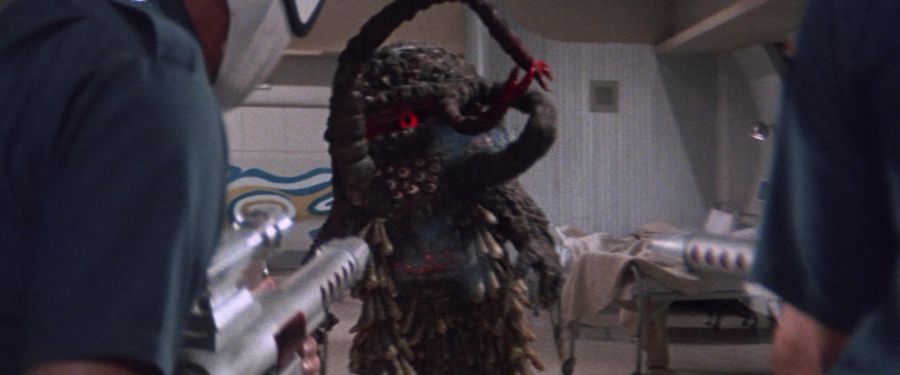 The creature that the green slime evolved into
Source:
Кадр из фильма "The Green Slime" (1968)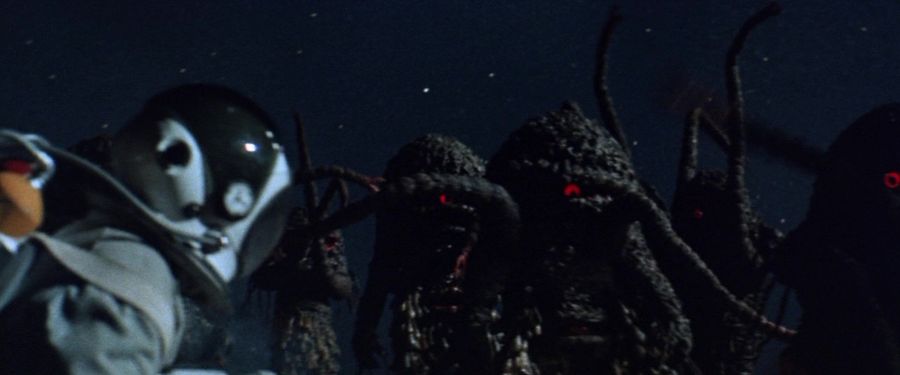 Alien creatures in outer space
Source:
Кадр из фильма "The Green Slime" (1968)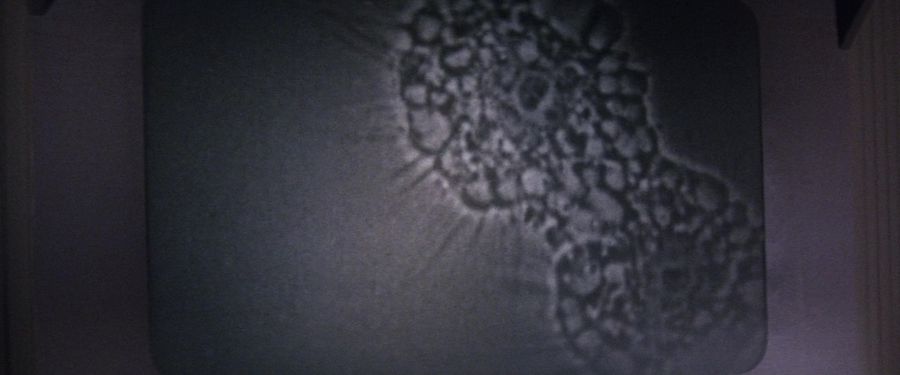 Alien Creature's blood cell (rapidly dividing)
Source:
Кадр из фильма "The Green Slime" (1968)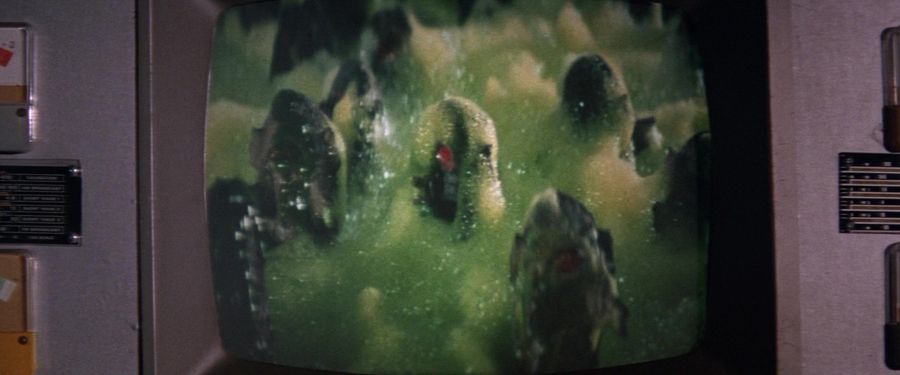 New aliens are born from the blood of an alien
Source:
Кадр из фильма "The Green Slime" (1968)
---
Log in
or
register
to post comments