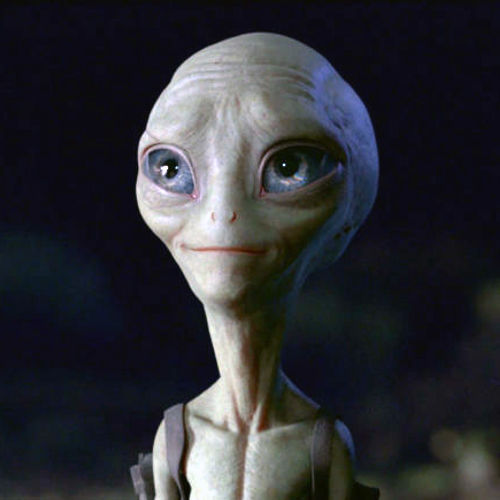 Added
Sun, 08/01/2017
Hierarchy
Другие названия
Область распространения
All over the world
Характерные признаки

→

→

→

→

→

→

→

→

→

→

→

→

→

→

→

→

→

→

→

→

→

→

→

→

→

Sources
The alien is a hypothetical representative of an intelligent extraterrestrial civilization. It is considered a passenger of the "flying saucer", so it is closely associated with the UFO phenomenon, although it appeared in the mass consciousness much earlier.
As with the origin of the unidentified objects, the true origin of the aliens is unknown. According to various versions, they can be aliens from other planets (aliens), and from other worlds ("parallel Earth"), and even representatives of the future population of the Earth.
This category can include any "hidden people" from folklore, because there are common features:
they come from another world (sometimes kidnapping a person and taking them to it)
they differ in the level of development from a person
share knowledge or devices
time in their world lasts differently from that on earth
they look very similar to people, but with some obvious differences (strange facial features, unusual clothing, etc.).)
at the place of appearance, traces of crushed or burnt grass can be left
they may have sexual relations with the abducted person
their appearance is often accompanied by blinding light
Now all such meetings are associated with extraterrestrials.
According to the versions of the explanations, the aliens look like ghosts. Usually, it is customary to refer to the aliens as anthropomorphic entities, but there are exceptions. Until recently, they were also related to the ghosts by the circumstances of the meetings, after which there were no obvious traces left. However, in the last few decades, the usual observations and contacts have been supplemented by evidence of implants left by aliens in the human body, as well as reports of the discovery of the corpses of unknown creatures similar in description to the aliens.
It is believed that the aliens are not only intelligent, but also far ahead of earthlings in technological and cultural development.
The aliens represent something unknown, bringing with them new experiences, new opportunities and, at the same time, potential danger. The image of an alien, most often a humanoid alien, is actively exploited by modern mass culture.
It even has five "classic" images.:
Humanoid. These are aliens who look exactly like humans. Their height varies from small (gnome-like), to tall (see Nords). They differ in gender, age, and appearance. The clothes of W on a human, but more reminiscent of the suits or diving suits.
Greys, or "greys". They look like short humanoid creatures with gray or light green skin, without hair. The descriptions also usually feature a disproportionately large head with huge slanted black eyes.
The Nords. Outwardly, they look like people of high stature with geometrically perfect facial features and physique.
Reptilians. They are usually described as giant humanoid lizards.
Insectoids. In the descriptions of eyewitnesses, they are distinguished by an obvious comparison with terrestrial insects.
As you can see, these descriptions also fit many representatives of the "hidden people".
Phenomena with similar tags
Phenomenon in mass culture
---
Log in
or
register
to post comments