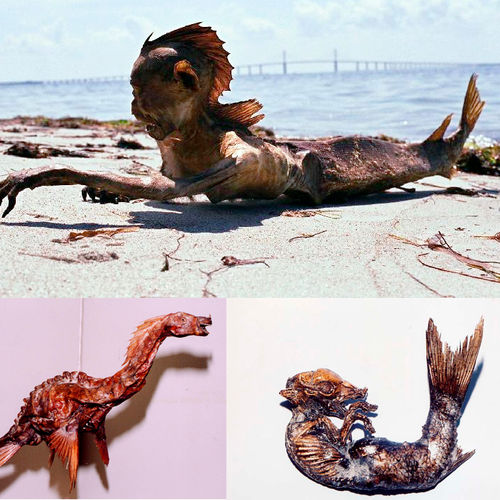 | | |
| --- | --- |
| Added | Mon, 17/04/2017 |
| Источники | |
| Феномены | |
| Версии | |
Juan Cabana (Juan Cabana) - artist living in USA and working in an unusual genre. In 1999, he created a menagerie of aliens, fairies and mermaids. His sculptures are created from real flesh of once living fish and creatures, from the real scales, bones and skeletons. Juan offers his works for sale on eBay. They are interesting not only for its appearance, but an interesting story for each character. The author, though, and recognized in numerous interviews that it was his hard work, but in the description of the lot in some detail tells where and when the corpse was found is represented by "creatures." The artist claims that he gives these things to the legend to create excitement around sales and add an element of fun. Juan says that at first he honestly wrote that his sculptures, but eventually he began to feel that it is too boring. The addition of history, he says, creates a much more emotional; however, it suggests that most potential buyers understand that these stories are fiction.
The sculptures themselves look quite realistic and often find themselves on the pages of Newspapers as evidence of the existence of various mystical creatures.
To familiarize with the work of Juan Cabana, and the possibility of comparison of newspaper publications, his outstanding work for real creatures, here are pictures of sculptures available on its website. In the sources we provide a link to the artist's website so that readers could get more information about his work and to see qualitative development of his sculptures.
Translated by «Yandex.Translator»
---
Log in
or
register
to post comments