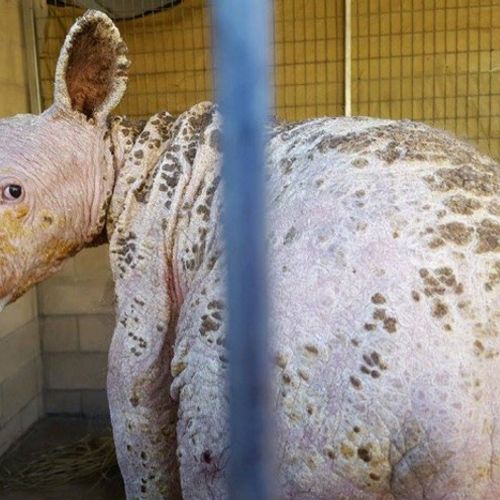 | | |
| --- | --- |
| Added | Sun, 10/05/2020 |
| Источники | |
| Дата публикации | |
| Феномены | |
| Версии | |
About 60 years ago in one of the regions of Puerto Rico found several dead goats, and the bodies of the animals were completely drained of blood. According to rumors, the animals were killed by a mysterious creature that looks like a dog, but hairless, with protruding fangs and a pig's face.
A strange creature dubbed the Chupacabra. Since then, a mysterious bloodthirsty monster seen in the countries of South America and in the United States. Imagine how scared the inhabitants of the tiny American town of Forbestown, when I came across some bald creation directly from the garbage cans!
People quickly calmed down, seeing that hairless monster is not aggressive. Moreover, the unfortunate beast himself was very afraid of bipeds. Call local animal advocates have solved the problem. For a poor guy very quickly came to the rescue.
The vet, which brought the frightened creature, quickly identified by its species. "Chupacabra" was a small, defenseless bear. Tiny female black bear was later named eve.
Baibolov, or black bears are found throughout the United States and Canada. These good-natured beasts are relatively harmless. On people they attack very rarely. Even a wounded American rather try to get away from the abuser, than to rush to the attack.
Black bears often wander into human settlements in search of waste. Most likely, Eva also came in the trash for food. Apparently, a mother bear was killed and hunt the baby is not yet able to.
Due to malnutrition the immune system eve was weak and miserable in the shoes of the settled ticks. Over time, the poor thing is completely bald. Now the baby is being treated in a rehabilitation center, where the bear is kept in a separate room.
Eva is asleep on the soft grass, which may not scratch her bare skin. Baby given medicines against parasites and occasionally bathe. Center staff believe that by the end of the year the bear will eventually come back to normal, and it can be released into the wild.
Mange in black bears — not uncommon. People occasionally notice the affected by this illness the Bruins in the wild. Below, for example, captured an adult whitetailed from the U.S. state of Florida, which is almost completely bald.
Translated by «Yandex.Translator»
Новости со схожими феноменами
Новости со схожими версиями
---
Log in
or
register
to post comments