In the complete collection of Ural anomalies, which was recently published by the members of Yekaterinburg-Kosmopoisk Research Group (Stalker) more than 50 points from different regions have entered. Nine of them are in Bashkiria.
- We draw information from the stories of local residents, legends and even operational reports of the traffic police. Check everything, alas, it does not work. We assume that some of the data are preliminary," one of the ufologists told KP.
According to the compiled list, Beloretsky became the favorite area for aliens in Bashkiria.
1) The village of Brik-Alga, Belebeyevsky district. Strange noises are heard from the forest, places with crushed grass are noticed, rounded areas with trees broken at a height of 3-3.5 meters, there is a curvature of the trunks. Eyewitnesses claim that UFOs often hover over the forest.
2) Bolshoy Iremel Mountain, Beloretsk district. Researchers from Kosmopoisk have information about caves where feral people hide.
3) Wolf's Fang, a mountain near the village of Kaga, Beloretsky district. At the top of the mountain, residents saw flashes, glow, discharges like electric and even flying UFOs.
4) Aksakov House Museum, Ufa. The ghost of the famous writer's grandfather periodically appears in the house on Blagoev Street, 4.
5) The settlements of Ziganovka and Makarovo, Ishimbaysky district. Sometimes mysterious herbal formations appear, similar to "crop circles".
6) Kapovaya cave, Burzyansky district. The cave takes a "tribute" from the surrounding villages: animals grazing near the edge fall into it.
7) Mars village, Aurgazinsky district. UFOs regularly appear in the local sky.
8) Yurmash, Beloretsky district. Not far from the village there are blocks of reddish color - the so-called "thunder stones". There is a belief that if you hit these stones with something or just touch them, a thunderstorm will begin.
9) Yaman-Tau, Beloretsk district. On February 5, 1973, two photos of a UFO hovering over the tops of trees were taken in the Yaman-Tau River Valley (10 km from the summit).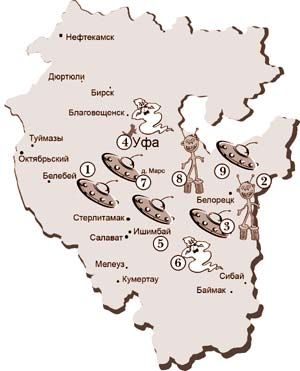 Phenomena:
Anomalous zone
Source:
urbibl.ru
Новости со схожими феноменами
---
Log in
or
register
to post comments