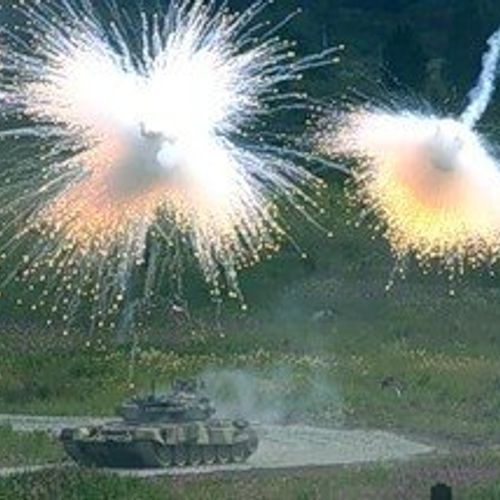 | | |
| --- | --- |
| Added | Sat, 08/10/2016 |
| Sources | |
| Феномены | |
| Version type | |
This category includes not only pyrotechnic shells visible in the sky, but also traces of exploded shells, their fragments and other similar activities. 
Pyrotechnics is a branch of engineering related to the technologies of preparing combustible compositions and burning them to obtain a certain signal or effect.
It is divided into:
military (such as signal rocket launchers, flash-noise special equipment, smoke bombs)
specialized (filming special effects, civil signaling devices, pyrobolts, railway firecrackers)
entertainment (mainly fireworks products — firecrackers, sparklers, firecrackers, rockets, fountains, fireworks) 
Photoflash bomb (photoflash bomb, flash bomb) is an aviation bomb that creates a powerful short-term light flash.
The main charge of the FOTAB is made of a powdered aluminum-magnesium alloy called a photo mixture. An ignition-explosive charge (VRZ) consisting of a mixture of an oxidizer and aluminum powder with magnesium is installed along the axis of the aerial bomb. It is activated by a remote fuse. The explosion of which destroys the body of the aerial bomb, the photo mixture is scattered, ignited and burned using air oxygen. FOTAB 100 kg creates a flash with a light intensity of more than 2 billion candles with a duration of about 0.2 seconds.
It is designed to illuminate the terrain during night aerial photography from an airplane from altitudes up to 10,000 m, at flight speeds up to 1000 km / h. Due to the advent of improved night optics, satellite images and stealth aircraft, these bombs are no longer used by the military.
Phosphorus ammunition is a type of incendiary ammunition loaded with white phosphorus or incendiary substances based on white phosphorus mixed with other substances. White phosphorus and incendiary substances based on white phosphorus belong to the group of self-igniting incendiary substances that burn using oxygen from the air.
---
Log in
or
register
to post comments