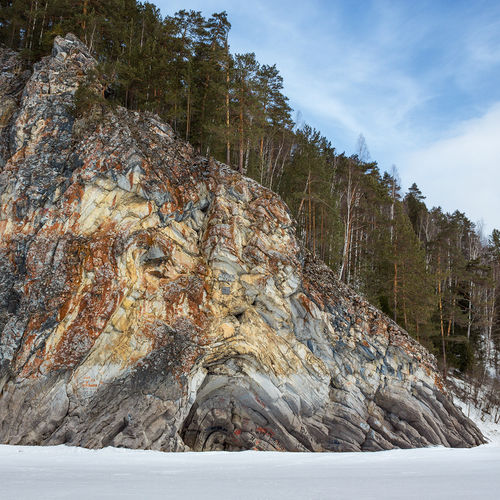 Added
Mon, 01/11/2021
Источники

urbibl.ru

«Уральский рабочий», 04.06.1999 г

Дата публикации
Феномены
Версии
We were rafting on the Chusovaya River. For a day, the Stove (left bank) and the Giant (right bank) stood on the left bank in front of the stones-"fighters". The weather was sunny, hot, windless. At about noon we went along the forest path to look at the Giant stone in full face. This is the largest coastal rock outcrop on Chusovaya, it stretches for almost 2 kilometers, and the height of the stone wall in places reaches 115 m. The "horseshoe" of the stone protected the river from the west, north and east. They walked slowly, picking berries and mushrooms along the way. Suddenly we heard the scream of our girls ahead and saw them running towards us with grimaces of horror on their faces.
"There, there!.." - they could not say anything else, pointing with their hands forward, towards the stone.
At first I thought they saw a viper or an elk, maybe a wild boar, which is quite likely here. But the girls denied my assumptions, claiming that there is something huge and terrible moving here. They began to dissuade us from going there and generally finish the rafting.
We men didn't really believe in the horror of the girls, we decided to look at this "huge monster" ourselves.
The forest twilight somehow abruptly ended, and we saw several "terrible monsters" unlike each other. The sun-drenched sandy cape was simply teeming with them. In complete silence and stuffiness, we watched this wonderful phenomenon of nature.
The air heated from the ground rose in such a strong, transparent stream that the rocks on the opposite bank of the river seemed like a liquid boiling mass. The play of shadows and colored rock spots through the prism of this stream created the most incredible figures and faces. We admired the spectacle for about ten minutes, finding in it animals, fabulous monsters and even a knight on horseback (of course, for this it was necessary to have a little imagination). And although later we made fun of the girls for a long time, who were so afraid of the natural phenomenon - refraction, but still justified their fright: they saw it unexpectedly, they had not met with such "miracles" before or did not pay attention.
R. KASHIN,

art. instructor of the campsite "Chusovaya"
The Stone is High (Giant)
Source:
nashural.ru
Новости со схожими феноменами
Новости со схожими версиями
---
Log in
or
register
to post comments