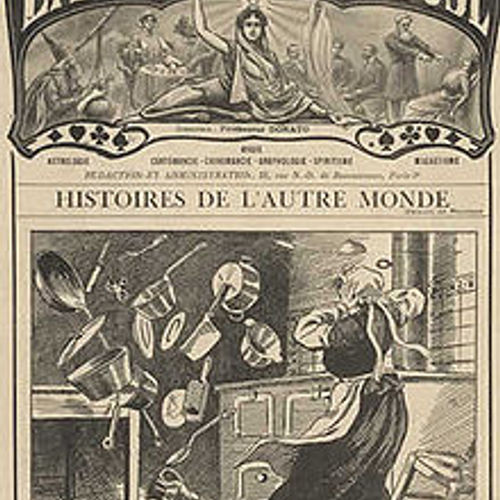 Added
Wed, 05/10/2016
Hierarchy
Область распространения
All over the world
Характерные признаки

→

→

→

→

→

→

→

→

→

→

→

→

→

→

→

→

→

→

→

→

→

→

→

→

→

Place →

Place → Reservoir

Place →

Place → Cemetery

Place → Forest

Place →

Place →

Place →

Sources
The word "poltergeist" comes from nemeckih poltern — "to rumble", "to knock" and geist — "spirit". Literally, it translates as "noisy Ghost."
This phenomenon expresses itself in different actions: the noise, the sound, the sound of footsteps, spontaneous movement of objects, their spontaneous combustion, and such actions, emphasizing the presence of some invisible entity.
It is believed that this entity is not tied to a particular place, and to person. It is possible to poach (for example, in another apartment), the modern researchers such a person is called the "focal person". Most often, his role is a teenager or a child, but many contemporary and earlier cases such a strict relationship is not confirmed.
The phenomenon there are a number of characteristic symptoms:
The feeling of presence of someone in an empty room, the feeling of vision, light touch
Moans, voices, music with no apparent source of the sound
Spontaneous switching on and off electrical appliances, blinking lamps
The motion of objects
Spontaneous combustion items
The spontaneous appearance of water, ice, blood and other fluids on surrounding objects
The appearance of the bodies of the victims of the bite marks, bumps, scratches, etc.
The appearance of labels
This is a list of all the possible manifestations of a poltergeist, but not necessarily in every case. A kind of poltergeist that is associated with exposure to elevated temperatures is made a separate phenomenon called "fire poltergeist".
Researcher of paranormal phenomena of Gilan Sherwood believes that they are on the contrary required and allocates them to five successive stages of "aging" of the poltergeist:
touch
communication
physical
meaningful
aggressive
Upon reaching the fifth stage of poltergeist activity peaking suddenly fades and after some time there is again, starting the cycle from the first stage.
Cases of poltergeist known all over the world with almost ancient history, they ended up in the chronicle, the diaries of famous personalities, records, employees, etc. However, before this term, these cases have been attributed to the mischief of the evil forces. For example, in Russia known stories about the hobgoblin. The evil spirit may simply knock or creak at night, it may break and throw furniture, break dishes, and can communicate with the aid of knocking.
Translated by «Yandex.Translator»
Phenomena with similar tags
Phenomenon in mass culture
---
Log in
or
register
to post comments