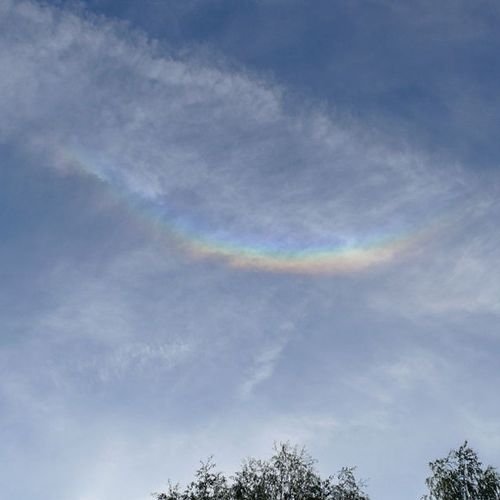 | | |
| --- | --- |
| Added | Fri, 07/10/2016 |
| Sources | |
| Феномены | |
| Version type | |
Rainbow - atmospheric optical and meteorological phenomenon that is observed under illumination by a bright source of light (natural Sun or Moon) set of water droplets (rain or fog). Rainbow looks like a multicolored arc or circle composed of the colors of the spectrum of visible radiation (from outer edge: red, orange, yellow, green, blue, Indigo, violet). Are the seven colors that are usually distinguished in the rainbow in Russian culture, but it should be borne in mind that in fact the spectrum is continuous, and its colors seamlessly into each other through a number of intermediate shades.
The center of the circle described by the rainbow, lies on the straight line passing through the observer and the Sun at the antisolar point, while the Sun is always behind the observer, and at the same time to see the Sun and the rainbow without the use of optical devices is impossible.
Iridescent clouds are relatively rare optical phenomenon in the atmosphere, which can be seen at any time of the year. Best of all, this phenomenon is visible in altocumulus and cirrocumulus clouds, while the sun should occupy a certain position in the sky. Then any semi-transparent cloud can "be painted in all colors of the rainbow." This phenomenon is due to the dispersion of light through the clouds, that is, light rays of different wavelengths deviate different, and hence the light of these waves reaches the observer from different directions. The brightness and saturation of colors in the rainbow is determined by the size and identity of the droplet size in the cloud.
Lunar rainbow (also known as night rainbow) is a rainbow caused by the Moon. Different from the sun only less intensity. Has the same radius as the sun (about 42°), and is always on the opposite from the moon side of the sky.
The colors of the lunar rainbow is hard to see because its light is too weak to excite the cones, and sticks themselves are unable to provide the perception of color. In the result, the lunar rainbow is usually seen white. However, in images with long exposure it is possible to obtain color.
Translated by «Yandex.Translator»
---
Log in
or
register
to post comments