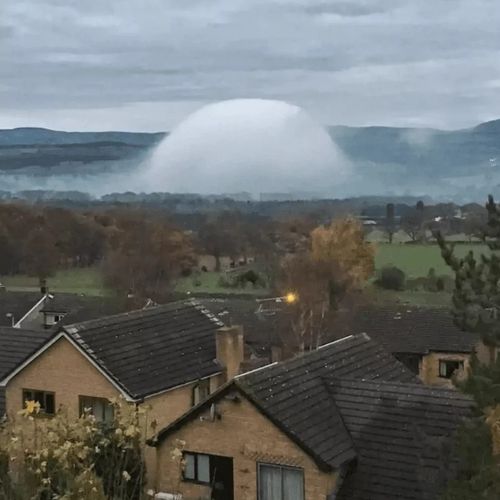 | | |
| --- | --- |
| Added | Mon, 21/11/2022 |
| Источники | |
| Дата публикации | |
| Феномены | |
| Версии | |
In autumn, something like an opaque bubble sometimes forms on the sea or in the countryside. This is a dome of fog, a rare meteorological phenomenon, the most impressive of which occurred in the UK a few years ago.
Amazing phenomenon On December 6, 2016, the newspaper La Chaîne Météo and many other media outlets reported an impressive phenomenon in Tremirchion, Wales (UK). It was the most amazing fog dome ever observed, as it had the shape of a flying saucer. This phenomenon was noticed by a local resident Hannah Blandford while walking her dog.
The dome covered at least a dozen fields around the village of Tremirchion. A passerby watched him for about 12 minutes, after which he gradually disappeared. That morning, the temperature was only -4°C, and the ground was much warmer than the air, which allowed water droplets to evaporate upwards - as the warm air rose upwards. At the time, some people thought it was a UFO landing zone. However, the rational explanation of the warmth of the earth is certainly connected with the presence of a hot water pool or a heated building.
Although the 2016 fog dome in Wales remains the most impressive, similar domes have already formed in other places. Although domes most often appear in rural areas or in the sea - on isolated islands, this can also happen in cities, since they also emit heat. However, their shape is more blurred, so they look more like "blankets" of fog than domes as such.
In general, fog consists of very small water droplets held in suspension by the movement of air. Like a low cloud, the fog is so low that it touches the ground. Of course, there are several types of fog, and some of them are very rare, for example, the well-known dome.
Another type is "sea smoke", a fog from vapors that forms over the water in autumn and winter. Like the dome, this haze occurs when cold air comes into contact with a warm surface - a sea, lake or river, causing evaporation in the form of foggy "shores".
Source:
new-science.ru
Новости со схожими феноменами
Новости со схожими версиями
---
Log in
or
register
to post comments